Watlow Thermocouples
Watlow provides over 85 years of manufacturing, research and product development for your temperature sensing needs. Watlow manufacturers a tremendous selection of general application, mineral insulated metal sheathed, base metal, high temperature, surface temperature and multipoint thermocouples are available. Fiberglass insulated thermocouples are capable of temperatures up to 900°F (480°C) for continuous operation. Watlow provides grounded, ungrounded and exposed junctions. Watlow uses a verification process at selected temperature points to products conform to ASTM error limits. Same day delivery on millions of thermocouple configurations is available.
Mineral Insulated Thermocouples & Fittings
Watlow's mineral insulated thermocouples are fast-responding, durable and capable of handling higher temperatures.
These thermocouples are manufactured with XACTPAK®, Watlow's trademark for metal-sheathed, mineral insulated (MI) thermocouple material. XACTPAK® responds fast because the protective metal outer sheath allows the use of smaller diameter thermocouple conductors. The rock hard compacted MgO insulation further enhances the sensor's ability to "read" temperature by transferring heat quickly to the measuring junction.
The XACTPAK® protect in sheath and compared insulation out performs bare wire thermocouple in most applications.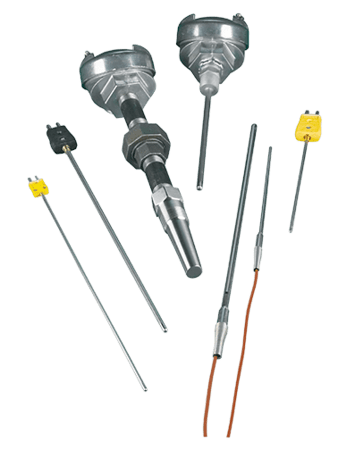 Request Quote
We respond quickly and have the specialists to make sure you get the parts you need.