Screw Plug Immersion Heaters
Watlow Screw Plug Immersion Heater
Screw plug immersion heaters are ideal for direct immersion heating of liquids, including all types of oils and heat transfer solutions.
Available in a variety of sizes, Watlow® screw plug immersion heaters feature both WATROD™ round and FIREBAR® flat tubular elements.
Heating elements are hairpin bent and either welded or brazed into the screw plug —depending on element sheath and plug material compatibility.
General purpose terminal enclosures are standard; with optional moisture resistant, explosion resistant and explosion/moisture resistant enclosures available to meet specific application needs.
Optional thermostats provide convenient process temperature regulation to the screw plug immersion heater.
---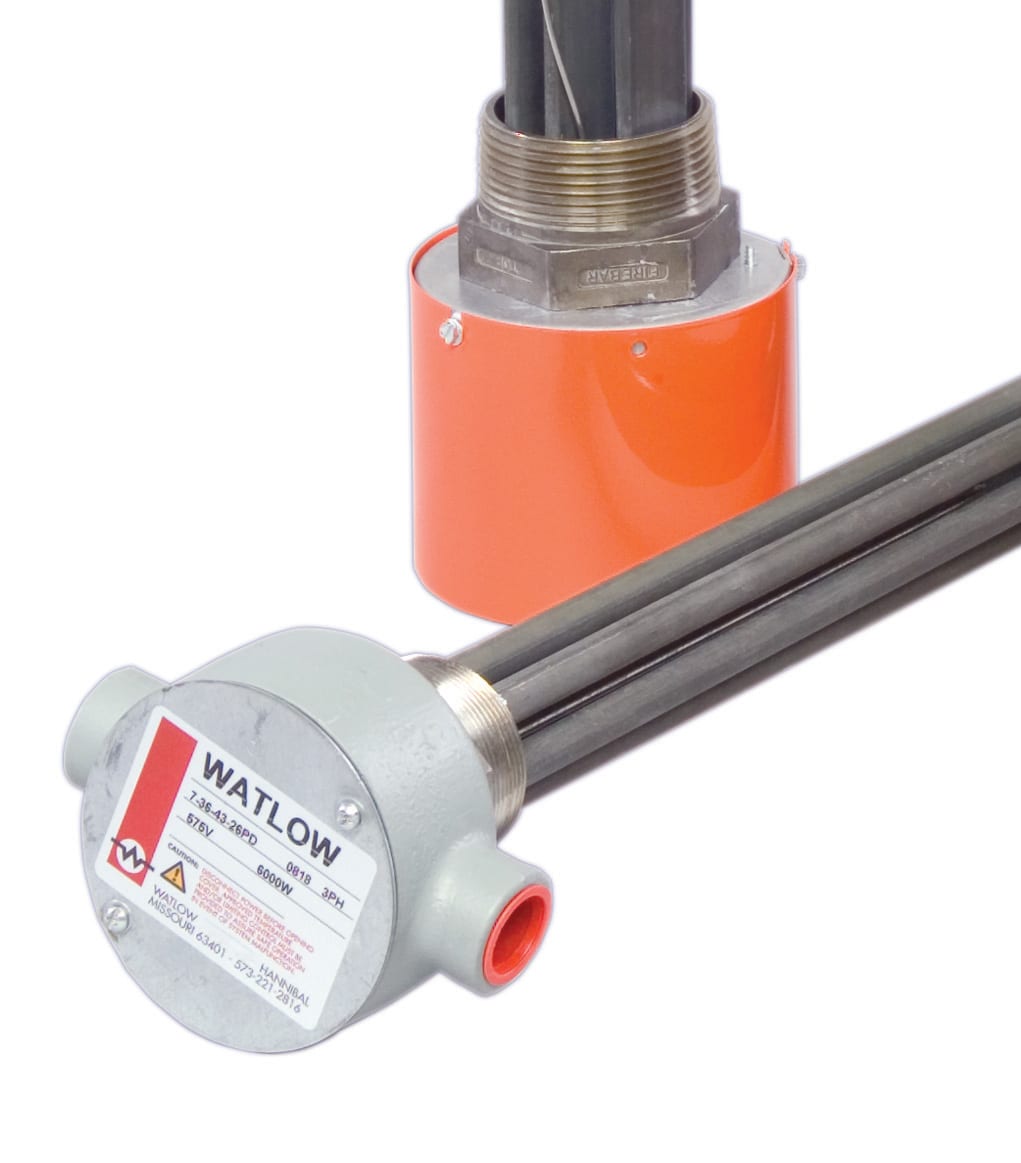 ANSI Flange Immersion Heaters
Watlow® flange heaters, with IECEx and ATEX Ex'd' certification, are easy to install and maintain. Designed for heating liquids and gases in tanks and pressure vessels, flange immersion heaters are ideal for applications requiring higher kilowatts. Watlow flange heaters are made with WATROD™ or FIREBAR® tubular elements brazed or welded to a flange. Stock flange heaters are equipped with a general purpose terminal enclosure. Watlow flange heaters possess IECEx and ATEX Ex'd' ratings certifying that the flange heater enclosure is flameproof. Every enclosure is pressure tested to ensure heaters are safe and reliable and meet rigorous standards for electrical safety. Flange heaters, with FIREBAR elements, also answer the need for liquid immersion applications requiring high kilowatts in small tanks. The FIREBAR element's unique flat surface geometry packs more power in a smaller bundle, with lower watt density, making it especially well-suited for petroleum based liquid heating applications.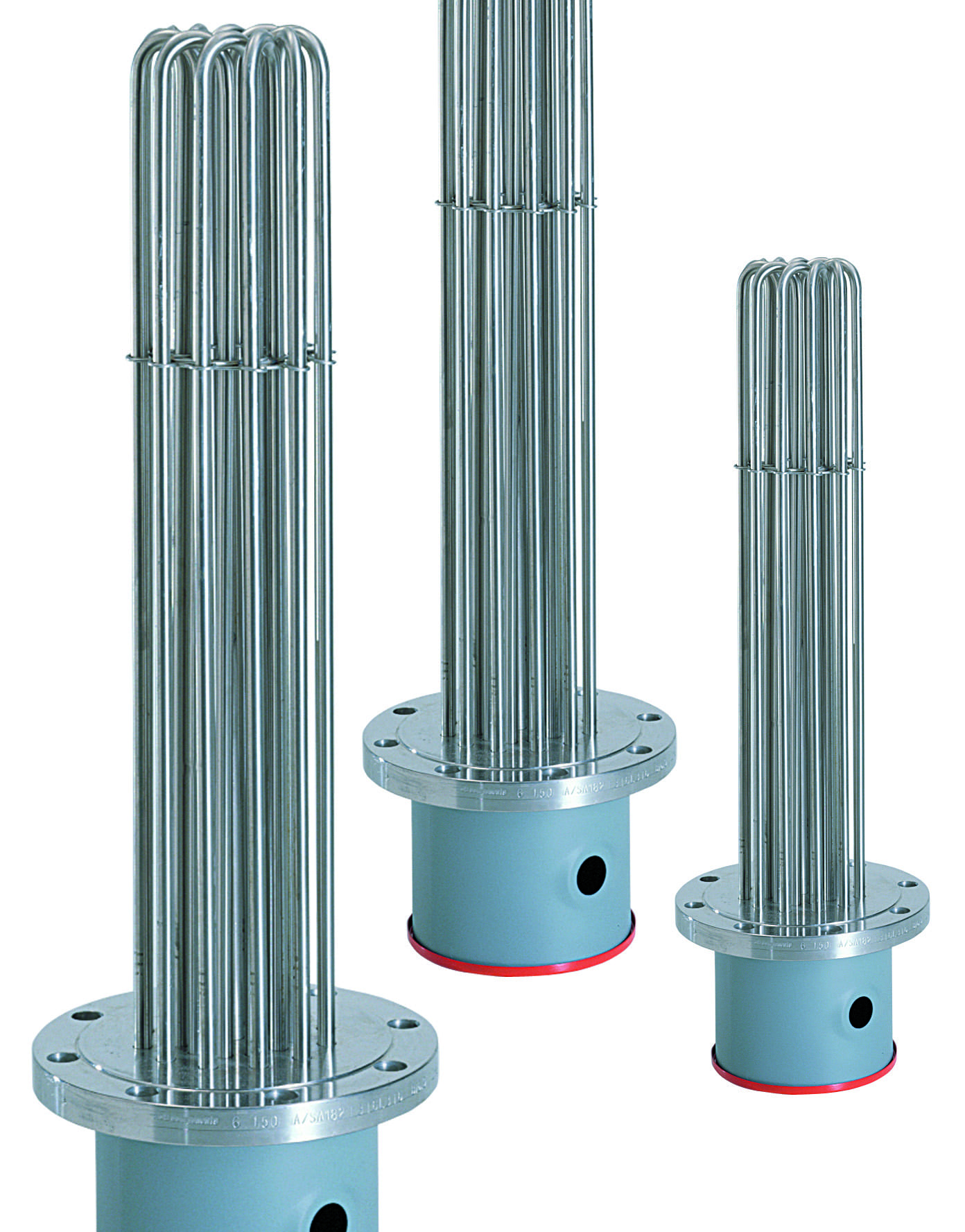 No Pressure Flange Immersion Heaters
This design consists of tubular heating elements silver brazed or TIG welded to a flange cut from steel or stainless steel plate. Flange plate size, thickness and shape are determined by the application. A fiber gasket is supplied with each heater. The various style heaters in the Stock Lists on pages 11-52 through 11-55 are direct replacements for heaters in many OEM applications. This type construction also lends itself to be easily and economically engineered into new equipment.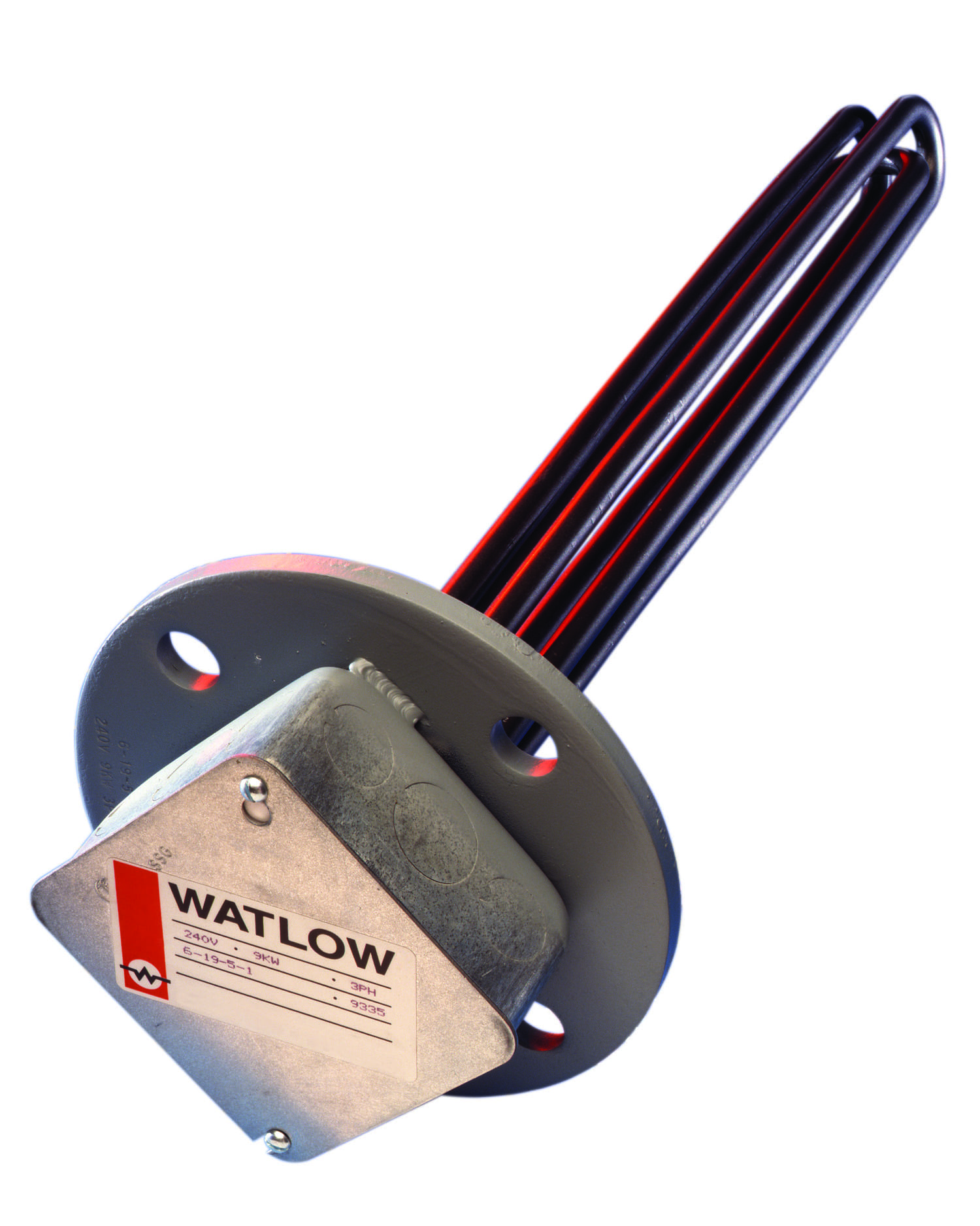 Over The Side Immersion Heaters
Tubular heating elements are welded into a liquid-tight junction box. Power leads for the elements travel up through the riser pipe and are connected to a terminal block in a NEMA 4 Housing.
Unless otherwise specified, heaters are wired for three-phase from the factory but can easily be converted to single-phase. A thermowell for a 3/8″ diameter bulb is standard to accommodate an optional thermostat. A thermostat can be field installed to mounting lugs located in the electrical enclosure. 
4″ (102 mm) sludge legs keep the elements off the bottom of the tank and above any deposits that may accumulate there.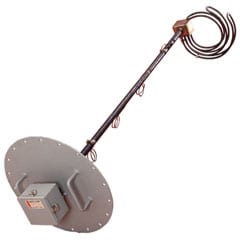 Circulation Heaters
WATROD™ and FIREBAR® Circulation Heaters
Heaters Designed to Heat Forced-Circulation Air, Gases or Liquids
Circulation heaters provide a ready-made means to install electric heating with a minimal amount of time and labor. This is accomplished by combining heating elements, vessel, insulation, terminal enclosure, mounting brackets and inlet and outlet connections into a complete assembly.
Made from NPT screw plug or ANSI flange heater assemblies mated with a pressure vessel (tank), circulation heaters are designed to heat forced-circulation air, gases or liquids. Ideal for either in-line or side-arm operations, these assemblies direct fluids past FIREBAR or WATROD heating elements, to deliver fast response and even heat distribution.
Watlow meets virtually all your circulation heater assembly needs with made-to-order units. These units can be made from a wide range of heating element sheath materials, wattages, vessel sizes and materials, pressure ratings, terminal enclosures and controls.
Features & Benefits
Catalog screw plug and flange part numbers provides a wide selection of WATROD and FIREBAR elements to meet specific application requirements
ANSI B16.5 Class 150 on 4 or 6 inch FIREBAR element flanges and 3 to 14 inch WATROD element flanges meets recognized agency standards
Compacted MgO insulation filled elements maximizes dielectric strength, heat transfer and life
Heavy-guage steel jacket (shroud) protects thermal insulation and heating vessel and comes with protective primer coating
1 inch (25 mm) thermal insulation rated to 750°F (400°C) reduces heat loss from the vessel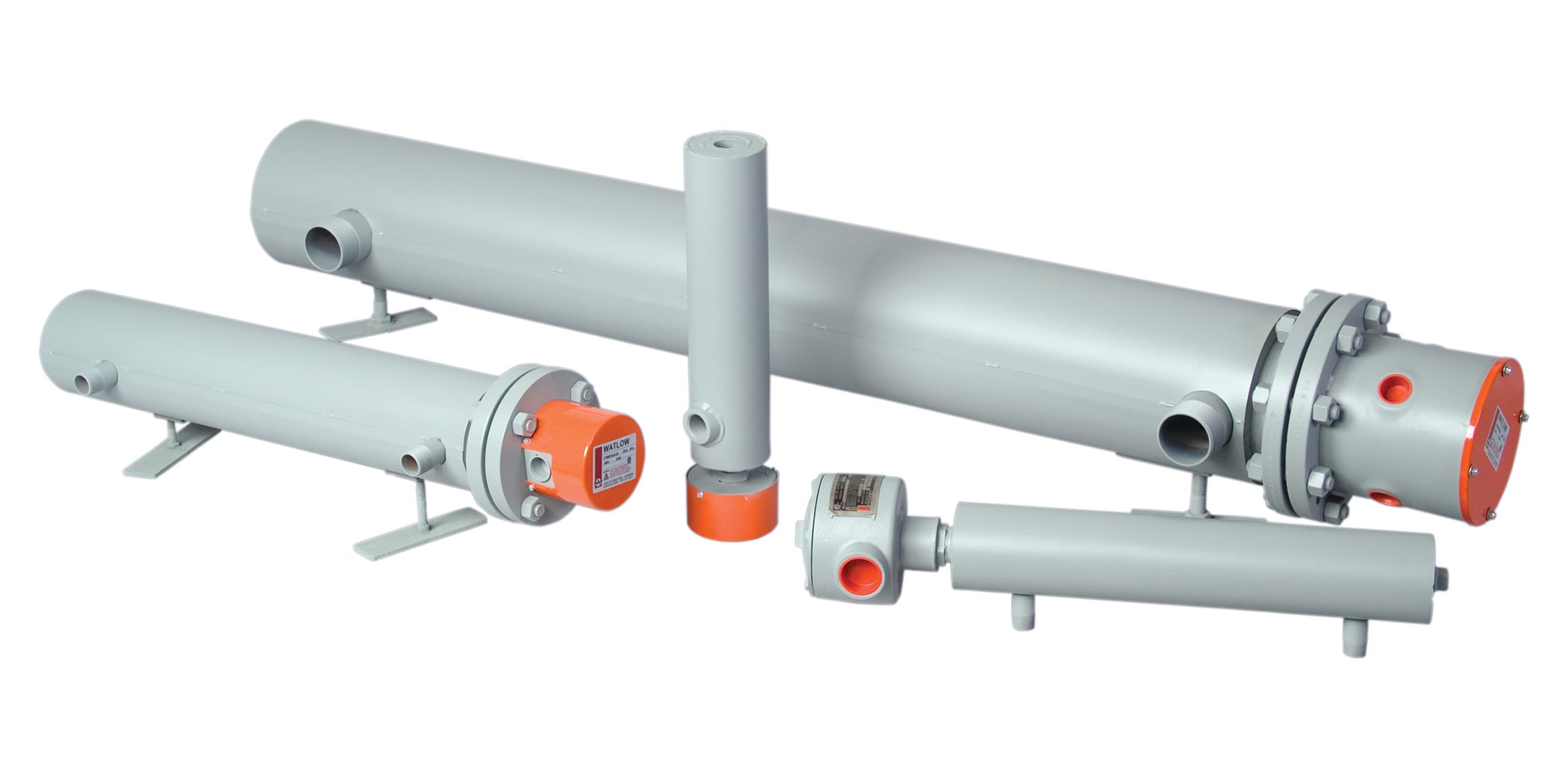 Cast-X Circulation Heaters
The CAST-X 1000 circulation heater from Cast Aluminum Solutuions consists of a helically coiled tube cast into an aluminum body with
tubular elements. The aluminum body blankets the tubular elements and acts as the heat
transfer media between the elements and the coiled tube circulating the heated fluid. This innovative and cost-effective cast construction provides multiple advantages compared to traditional circulation heaters. The CAST-X 1000 circulation heater's aluminum mass maintains heat accurately and consistently, resulting in an optimum level of temperature control. The aluminum body also efficiently conducts heat away from the tubular elements, prolonging heater life. The reliable construction of the CAST-X 1000 circulation heater allows fluid to circulate through a coiled tube instead of in direct contact with tubular elements. This feature eliminates hot spots that typically result from contact between tubular elements and the heated fluid. The robust, rugged design of the CAST-X 1000 circulation heater delivers problem-free operation in a more compact size than traditional heat exchangers. The CAST-X 1000 circulation heater is appropriate
 or numerous applications and may be customized to meet specific customer needs.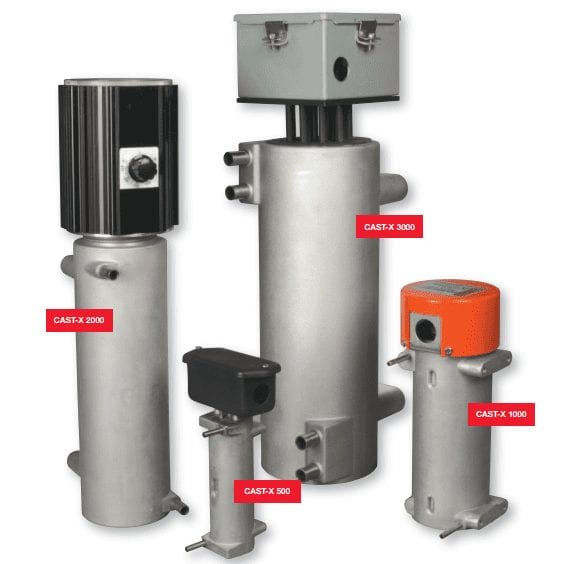 Starflow Circulation Heaters
The STARFLOW™ circulation heater is engineered to heat a flowing gas stream to a maximum outlet temperature of 1000°F (537°C). The 316L stainless steel chamber houses a small diameter sheathed element, which allows quick response to both heat-up and cool down cycles. Watlow's starwound, coiled cable heater provides extremely efficient and reliable heating by maximizing the contact area of the gas or fluid with the element. Because the element is sheathed, the unit can operate in gas streams requiring a clean environment and in atmospheres containing contaminants and moisture. This provides superior performance compared to units with internally exposed or open element wires.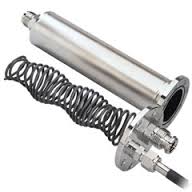 Request Quote
We respond quickly and have the specialists to make sure you get the parts you need.