Data Loggers
Watlow offers a range of products for time-stamped data collection of critical process data, from Windows®-based software to embedded data loggers. Data loggers reduce labor, increase accuracy and help companies comply with regulatory requirements by automating data collection. These products make it easy to add data acquisition to existing processes, make data available to analytical software in spreadsheet compatible files, allow data to be grouped in user-defined batches and incorporate operator comments and other information into reports. Software solutions record data directly on a computer and data from embedded data loggers is transferred to a computer via universal serial bus (USB), secure digital (SD) card or flash drive.
EZ-Zone RM
The Watlow EZ-ZONE PM Temperature Controller offers control options to reduce system complexity and the cost of thermal loop ownership. You can order the EZ-ZONE as a PID controller or an over/under limit controller, or these functions can be combined into an integrated controller.
With the EZ-ZONE PM, you now have the option to integrate a high amperage power controller output with a high-performance PID controller and an over/under limit controller in one space-saving, panel mount package. A number of serial communication options are available to the EZ-ZONE PM to support your connectivity needs.
Available in 1/32, 1/16, 1/8 and 1/4 DIN panel mount packages, the EZ-ZONE PM is highly scalable and you only pay for what you need. If you are looking for a PID controller, an over / under limit controller, or an integrated controller, the EZ-ZONE PM will make your life easier.
Optional Features of the EZ-ZONE PM include:
Integrated PID and limit controller
High amperage power control output
Current monitoring
Serial communication capabilities
Class I Div 2 rating
Remote set point operation
Profile capability
Retransmit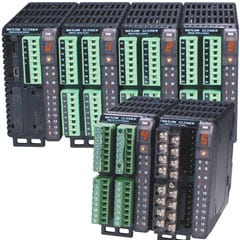 Silver Series
The Silver Series is a rugged, touchscreen operator interface terminal (OIT) available in three models (4.3, 7 and 10.2 inch diagonal display sizes). It supports a full set of features including serial and Ethernet communications with multiple controllers, universal serial bus (USB), secure digital (SD) card, data logging, flexible password security and multiple languages. The small bezel size and nominal 2-inch depth make mounting in tight spots easy.
The Silver Series operator interface programming software, EasyBuilder5000, features a large variety of built-in screen objects that makes it easy to use and very powerful. When creating screens, the user can call upon extensive graphics libraries, import custom graphics and add numeric displays, entry fields, analog meters, bar graphs and trend graphs with just a few mouse clicks. Screen objects are highly customizable, and the user can create libraries of their own objects for repeat use.
The online simulator, Ethernet and USB support make testing and downloading fast. EasyBuilder5000 is part of the EZware-5000 software suite and is available as a FREE download on www.watlow.com and on the CD-ROM found in the accessories list.
The Silver Series operator interface terminal paired with Watlow controllers is the perfect solution for your industrial process or machine control application.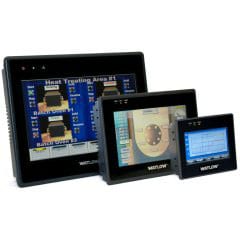 WATVIEW
WATVIEW is Watlow's Human Machine Interface (HMI) software designed to set up and monitor one or more Watlow® controllers. With easy controller setup, a recipe and alarm manager, data-logging and trend plot graphing capabilities, animated custom overview screens and a superior online help system, you can be assured that WATVIEW HMI software is the ideal software for your application.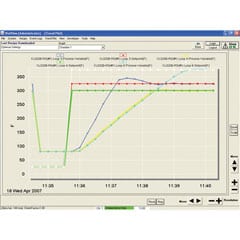 Request Quote
We respond quickly and have the specialists to make sure you get the parts you need.