Metal Faced Panel Heaters
Metal is the standard face on the M-Series panel heaters. The face can be manufactured using either hard-coated aluminum or porcelanized steel. A metal face is used for industrial applications in which there is a possibility that materials will fall onto the heater's face. Although a metal face heater is more durable than a glass face heater, A metal face heater absorbs all of the energy and re-radiates it to the process. Especially demanding applications sometimes require a slightly different design that makes use of a hard-coated aluminum face constructed in a cap (pan) style. This design ensures that materials definitely can not penetrate the heater. The M-Series heater can be constructed as wide as 24″ (610 mm) and as long as 48″ (1219 mm), though not that width and length in the same heater.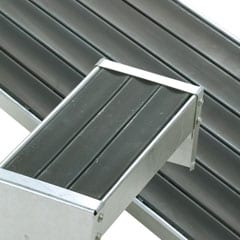 Quartz Cloth Panel Heaters
Quartz composite is the standard face on the F-Series panel heater, our best selling model. It is produced by a patented process that uses a high temperature material and special cement to bond quartz fabric with a ceramic fiber coil support. The end result is a unique, highly durable, quartz composite face heater.
The F-Series heater has a tremendous amount of flexibility. Its shape can be manufactured rectangular (most common ), square, round, or C-shaped. The heat can be aimed in a single direction (most common) or in dual directions. Our special designs can help to avoid cold spots across wide web applications. The maximum watt density of 25 watts/in2 (39 kW/m2) provides a sufficient amount of power for most applications. The use of an external reflector in most infrared heaters results in a dramatic loss of radiant efficiency over time. Because the proven design of the F-Series heater requires no external reflector, it maintains a consistently high radiant efficiency over time.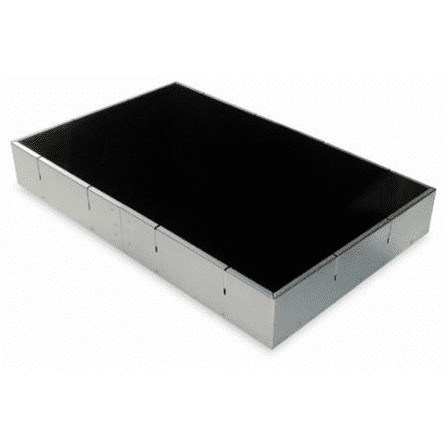 Ceramic Fiber Panels
Tempco Ceramic Fiber Insulated Heaters combine a heat source with superior high temperature insulation—an ideal solution for an unlimited number of industrial heating applications. Tempco Ceramic Fiber Insulated Heaters produce fast, efficient, and reliable uniform heat to temperatures of 1100°C (2012°F). Higher temperature ratings, up to 1200°C (2192°F), are available with a limited number of designs.
These heaters are comprised of high-quality helically wound Fe-Cr-Al alloy resistance wire elements embedded in a rigid body of vacuum-formed high temperature refractory fiber. This ceramic fiber insulation has very low weight, thermal mass and thermal conductivity and thus can handle extremely rapid cycling. The elements are typically mounted flush with the heated surface. The diameter of the helically wound element coil is kept to a minimum, reducing the difference between the element and chamber temperature, thus ensuring long heater life. This feature enables the design and manufacture of responsive heating systems and significantly reduces the risk of overheating the element.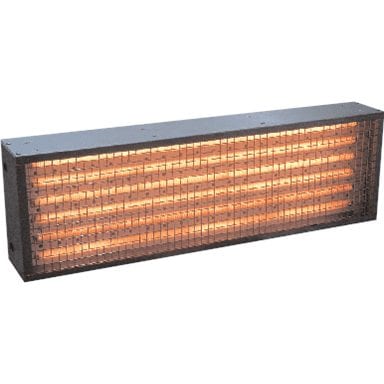 Quartz Tube Panels
KTE & KTG E-Mitters — High Intensity Medium Wave Quartz Mini-Tube Infrared Heaters

These Mini-Tube Quartz Heaters afe standard industry sizes and ratings up to 60 w/in2 and are interchangeable with CRC, CRB, CRN and CRZceramic heaters.
.
They are highly reflective, rugged, and have an aluminized steel housing construction. 
Rapid response — 2.5 to 7.5 deg F / sec. heat-up / cool-down rates, depending on unit watt density.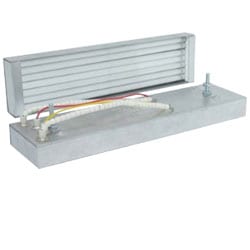 Ceramic Emitter Panels
New Cost Effective and Self-Contained Ceramic Infrared Panel Heater Offers Ease of Installation and Trouble-Free Performance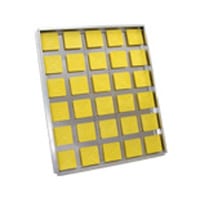 Medium Short Wave Tube Panels
The ferritic alloy (FeCrAl) resistance coil is uniformly stretched and placed inside a stress-free environment in either translucent or clear round quartz tubes. At the time of energization, the coil will expand without any physical constraint and last longer as opposed to the physical constraints imposed by the ceramic on the coils of standard ceramic infrared heaters.
By employing quartz tubes with an infrared transmittance of up to 95%, the Joule heating generated at the coil finds a venue to exit the tube's wall without substantial losses. The infrared energy coming out of the tubes in a 360º pattern must be then re-directed to the application and for that, a highly reflective gold surface (95% reflectivity) does the job. To further reduce heat losses to the back of the heater, an optional ceramic fiber with very low heat transfer conductivity is placed between the reflector and the back wall of the heater.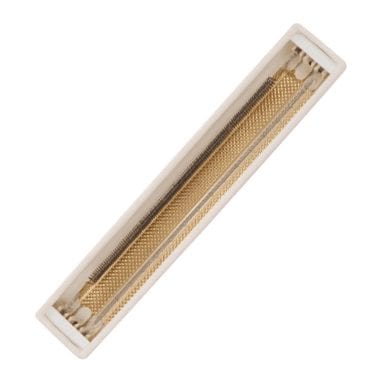 Ceramic Emitters
Highest Radiant Efficiency – 96%

Heat-up Cool-down Time – 1.5 to 5.5 minutes

Infrared Wavelength Range from 2.0 to 10µm

Reflectors and housings are also available

Standard colors are rose – changes to gray when energized, and traditional white.

Also available in yellow which changes to orange when energized, and black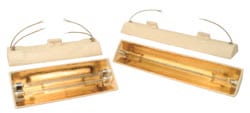 Infared Muffle Heaters
The heating element is a precision wound coil cemented to machined refractory material. The high temperature cement helps conduct heat to the radiating face. The use of wound coils provides maximum versatility in designing a muffle heater for almost any wattage, voltage, and number of zones. For precise control, replaceable thermocouples can be installed to measure chamber temperature and/or coil temperature. The interior surface can have exposed coils for fastest heat up or a bonded quartz fabric for improved durability and aesthetics. Available options for further protection from impact or abrasion include a protective stainless steel wire screen or a heavy wall clear quartz tube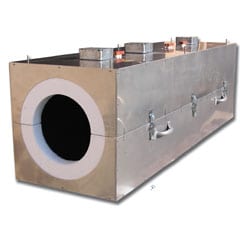 Request Quote
We respond quickly and have the specialists to make sure you get the parts you need.