Duct Heaters
Watlow Duct heaters are easily installed in applications requiring a wide range of temperature versus air flow combinations.
The modular duct heater offers increased reliability. The individual modules are removable through the housing of the assembly, which eliminates the need to pull the complete heater from the ductwork. This reduces downtime costs because the heating elements can be replaced individually. Performance improvements include quicker response time and reduced infiltration from the air stream being heated into the electrical enclosure.
Air duct heaters offer advantages over gas or oil fired and open coil electric units with:
Installation flexibility—no flues or fuel lines
100 percent energy efficient—no energy loss up the flue
Universal availability of electricity
Resistance coil in Incoloy® sheath is protected from corrosive environments
Duct heaters with general purpose enclosures meet UL® and CSA component recognition to 480 and 600VAC maximum respectively—UL® and CSA file numbers are E52951 and 31388.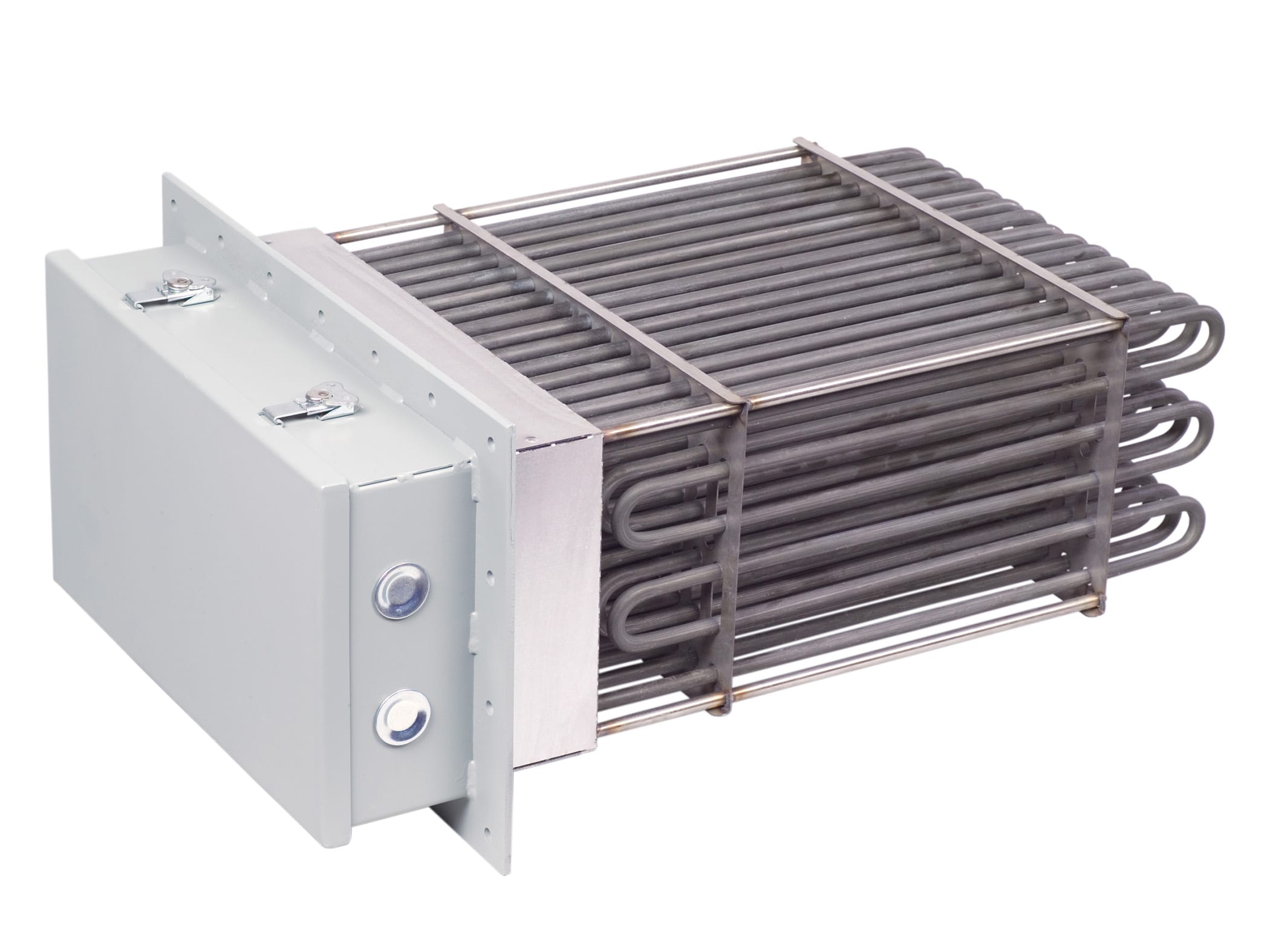 375 Finned Strip Heaters
The Finned Strip Heater's basic design consists of a helically wound resistance coil placed in a specially designed ceramic insulator. The  resistance coil is mechanically connected to the screw terminal for positive connection. Stainless steel rectangular tubing is used to house the  heater assembly. All remaining voids are filled with high purity magnesium oxide to increase thermal conductivity and dielectric strength.
Nickel Plated Steel Fins (SSOptional)are mounted to the rectangular tubing. The fins have been specially designed to provide maximum  surface contact for good heat dissipation into the finned cross sections, thus resulting in rapid heat transfer to the air.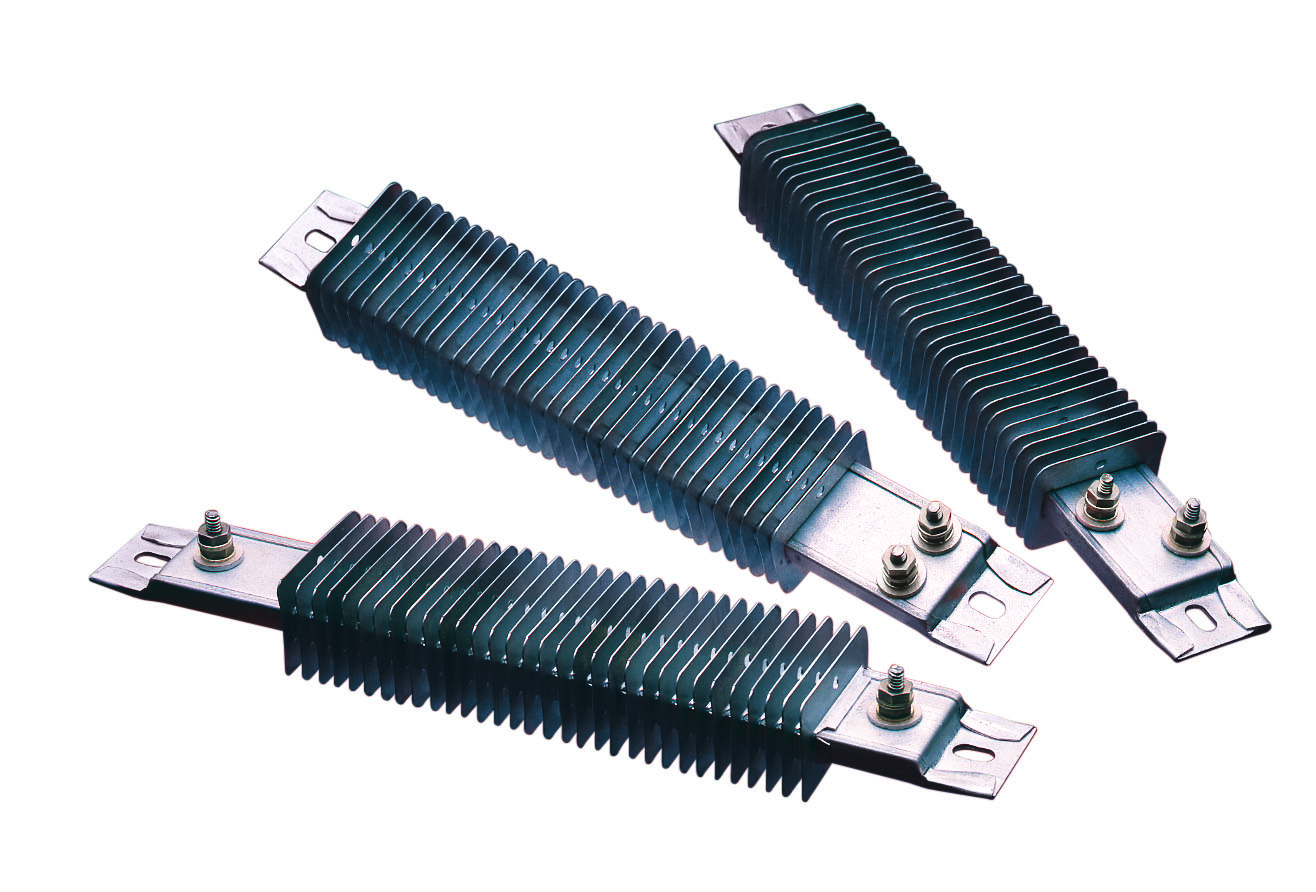 Firebar Finbar Heaters
Finned heaters are composed of aluminized steel fins press fitted to a one-inch single-ended FIREBAR® element. The FINBAR™ finned tubular heater is designed to improve heat transfer to the air and permits putting more power in tighter spaces—like forced air ducts, dryers, ovens and load bank resistors.
Heat transfer, lower sheath temperature and element life are all maximized by the FINBAR heater's finned construction. Installation is simplified by terminations exiting at one end and mounting accommodations on both ends.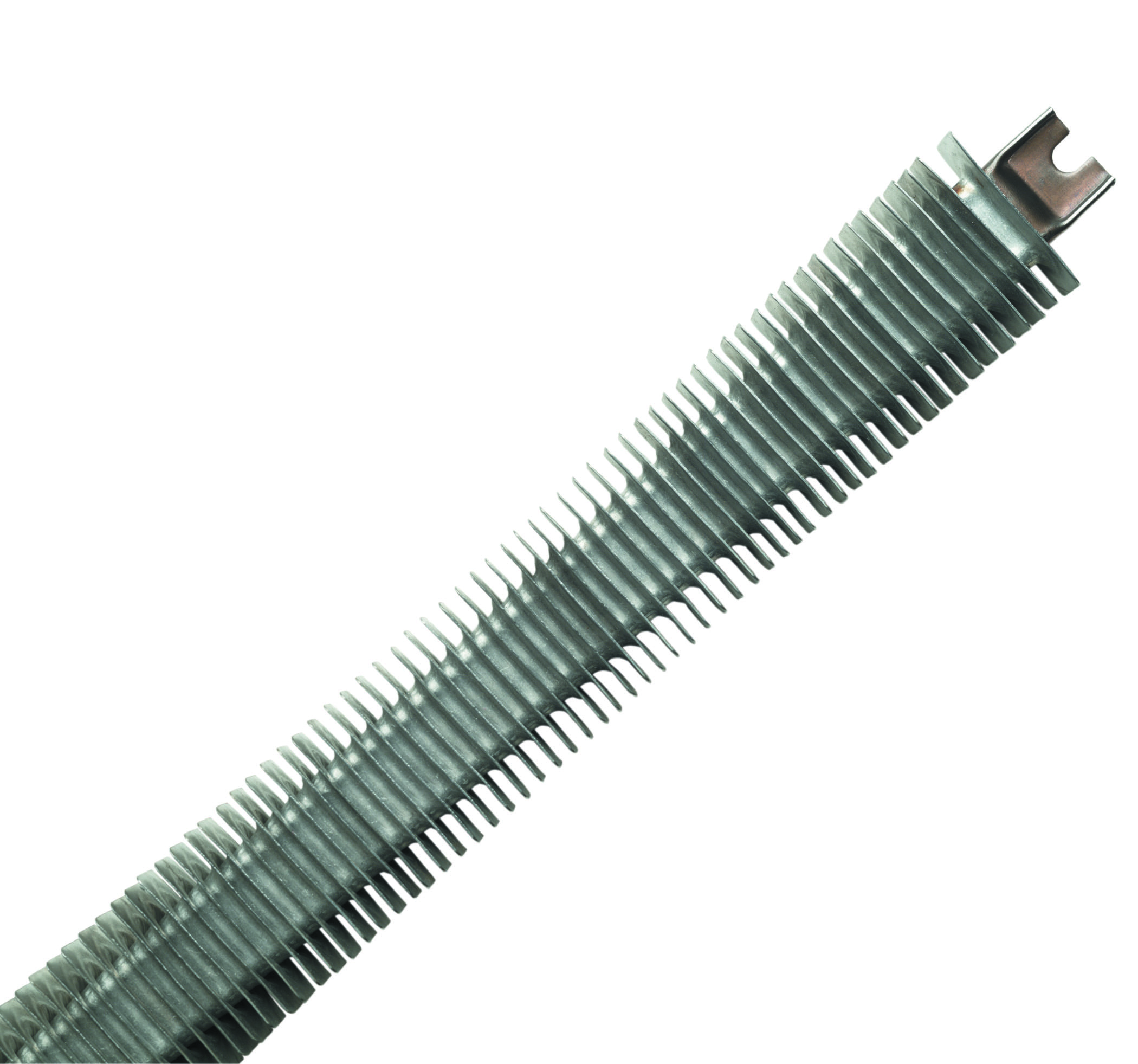 Silicone Rubber Enclosure Heaters
Designed for freeze and condensation protection, Watlow's enclosure heaters are rugged, reliable and safe to operate. These rectangular-shaped, wire-wound silicone rubber enclosure heaters can be ordered by themselves with adhesive or vulcanized to an aluminum mounting plate. A thermostat can be attached to the heater or mounted separately. Pictured are enclosure heater units with thermostat on heater in foreground and heater with remote thermostat in background.
Applications:
Freeze protection and condensation prevention for many types of instrumentation and equipment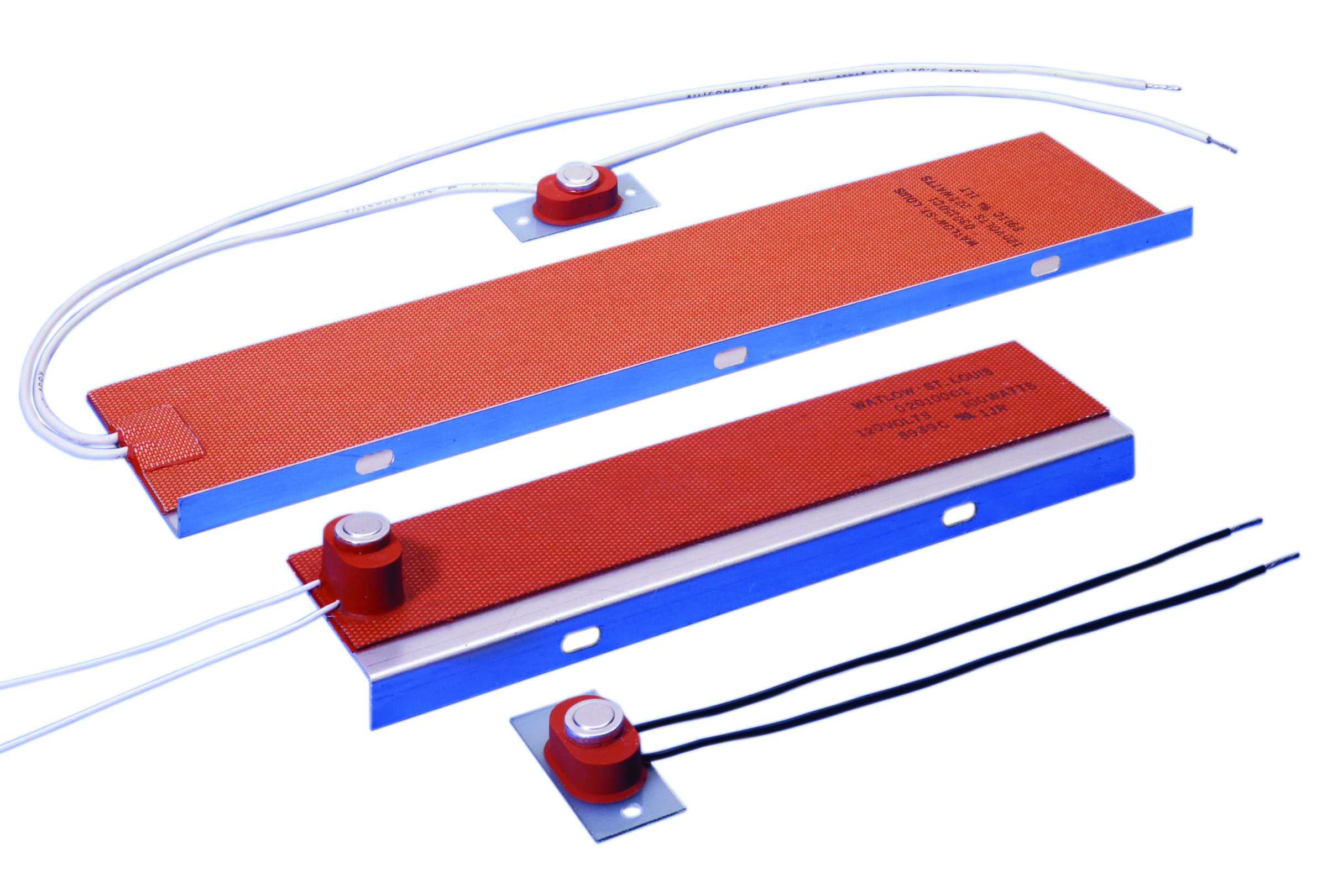 Tubular Enclosure Heaters
WATROD enclosure heaters are designed to prevent freezing and condensation in electrical and mechanical housings.
The WATROD heater element is enclosed in a perforated, aluminized-steel bracket to prevent direct contact with the heating element.
The enclosure heater's stainless steel sheath wall resists corrosion and protects the heating coil from exposure while the silicone resin seal provides protection against humid storage conditions and is effective up to 390°F (200°C).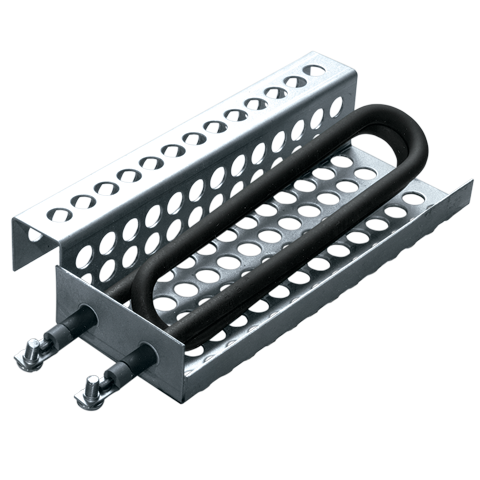 Flameless Electric Air Heaters
When you need a heat source, Convectronics' products are designed to meet and exceed all expectations. Convectronics Air Heaters use state of the art materials and can be found throughout the world in countless industries.
• Temperature up to 1500°F
• Clean electric heat without the flame
• Compact size with rapid heat-up and cool-down
• Controllable by varying voltage, flow rate or 
  temperature controls
• Excellent repeatability
• Directable heat
• Easy installation
Air heaters work by continuously passing air/fluid over a heated element. This air/fluid is heated and then discharged from the heater, giving a consistent supply of reliable heat. The material being heated can either be inert gas, compressed air or air from a regenerative blower. Unfiltered gas that may contain dirt, grease, oil, oil vapors, corrosive or reactive gases along with volatile or combustible gases should never be used. It should be noted that material should always be flowing over the element before and even after power is supplied to the heater or the result may be overheating of the element and reduced life.
Optimum heater life is achieved by operating the
element within its specified performance characteristics and monitoring the element temperature. Elements operating outside their recommended limits will glow beyond the midsection of the heated length.
Best operating results will be obtained by using a thermocouple feedback temperature control and phase angle power control. When using only a voltage control extra caution should be taken. Apply voltage to the heater until the desired air temperature is obtained.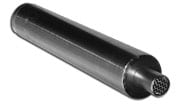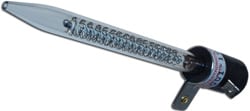 Request Quote
We respond quickly and have the specialists to make sure you get the parts you need.